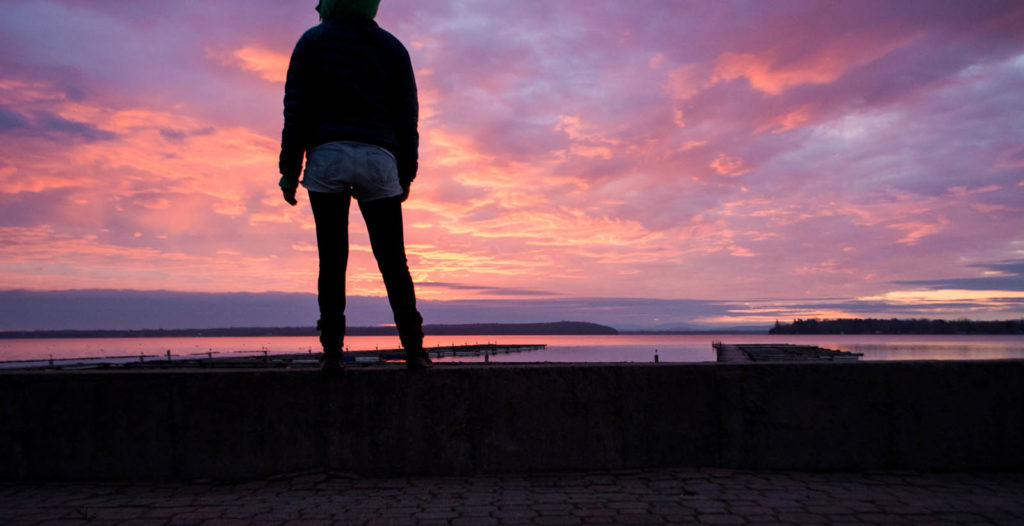 I was working restoring a 40-foot-sailboat in a boatyard on Lake Champlain. Despite the fact that the owner repeatedly made sexual remarks to me, paid my male friend three dollars an hour more than me for the exact same quality of work, and embarrassed me in front of boatyard customers and workers by aggressively yelling at me when I made a mistake, it was still a pretty good job. Most of the time I was alone on the boat. And even when he was there I usually had my own tasks to work on. I opened and closed the boat each day. I took care of the owner's constantly sinking dinghy. In exchange I was paid what I thought was a fair wage, and he paid for lunch. I loved working on the boat, and the boatyard I was at. Everyone knew me and respected me for the work I was doing on his boat, as well as living aboard and working on my own boat to eventually head south.
But the job was temporary. I had to sail on and when I decided to do so I was met with serious backlash. The owner sent me abusive text, after text, after text after text. He said I wasn't a sailor. He said I wasn't a hard worker. He said I would never amount to anything. He wouldn't stop, so I had to block him.
A few weeks later, working a new job in a new harbor I got a call from a woman I had met while working on that boat. She was a distant cousin of the owner's wife, and a nanny to his two young children. She loved boats, had met Bob Dylan, and in general seemed like an interesting, wandering soul.
"I'm just wondering—did he ever sexually assault you, or touch you inappropriately?" She asked me, her voice shaking.
"No," I said, alarmed. "He made sexist remarks, but that's it. Why?"
"Because he raped me."
She then recounted every painful detail of the event where he, in a drunken rage, assaulted her. I begged her to go to the police. To get legal advice. To make a statement. I told her once she did that I would cooperate in anyway I could. I would hand over the text messages. I would make a sworn statement about his anger and uncomfortable comments. I was with her. I believed her. But, I was scared.
This man knew everything about me and how to find me. I wasn't willing to do anything to help her without some kind of protection from the law.
She didn't go to the police, and eventually she stopped asking me for help.
I returned to the boatyard the next year, living on my second boat. I kept an eye out for him, and dreaded running into him. I had pepper spray at the ready, nearly always, just in case. When we did finally see each other he waved enthusiastically as I got into my car. I sat in the driver seat for a moment collecting my thoughts, my heart racing, and decided to confront him.
"Hello," I said in monotone looking him in the eye.
"Hello!" he said enthusiastically, his grin as wide as the cheshire cat's "I heard you bought another boat. You really are hopeless!"
"Yeah yeah, ha ha," I said. "Look I got some interesting news last year from _____, saying you sexually assaulted her. I'm not saying it's true or not, but I just want you to know if you ever try anything like that with me I will take you down so hard and fast. I know everyone in this yard and they all have my back. The yard manager is right there, and I'm not afraid to get him or anyone else involved."
The truth is, I was afraid. This was a rich guy at the boatyard and I was just a riffraff sailor chick. I was in survival defense mode. I had to act tough and confront him and make it known that I would not be a victim. He denied it, of course. At first he seemed very nervous, but as his story went on he relaxed. Brushing some paint thinner onto a Sun Fish he had just acquired he smugly shrugged and said, "We don't know what to do with her, she does this all the time."
I did wind up telling some people who worked at the boatyard about the incident. I wanted it to be "on the record." For the victim's sake, and for mine. But still, I wish I could go back.
I wish I could have gotten her to come forward to the authorities.
I wish I could have given her a written statement to go forward with so she felt like she had some back up.
I wish I had looked him straight in the face and said, "I believe her."