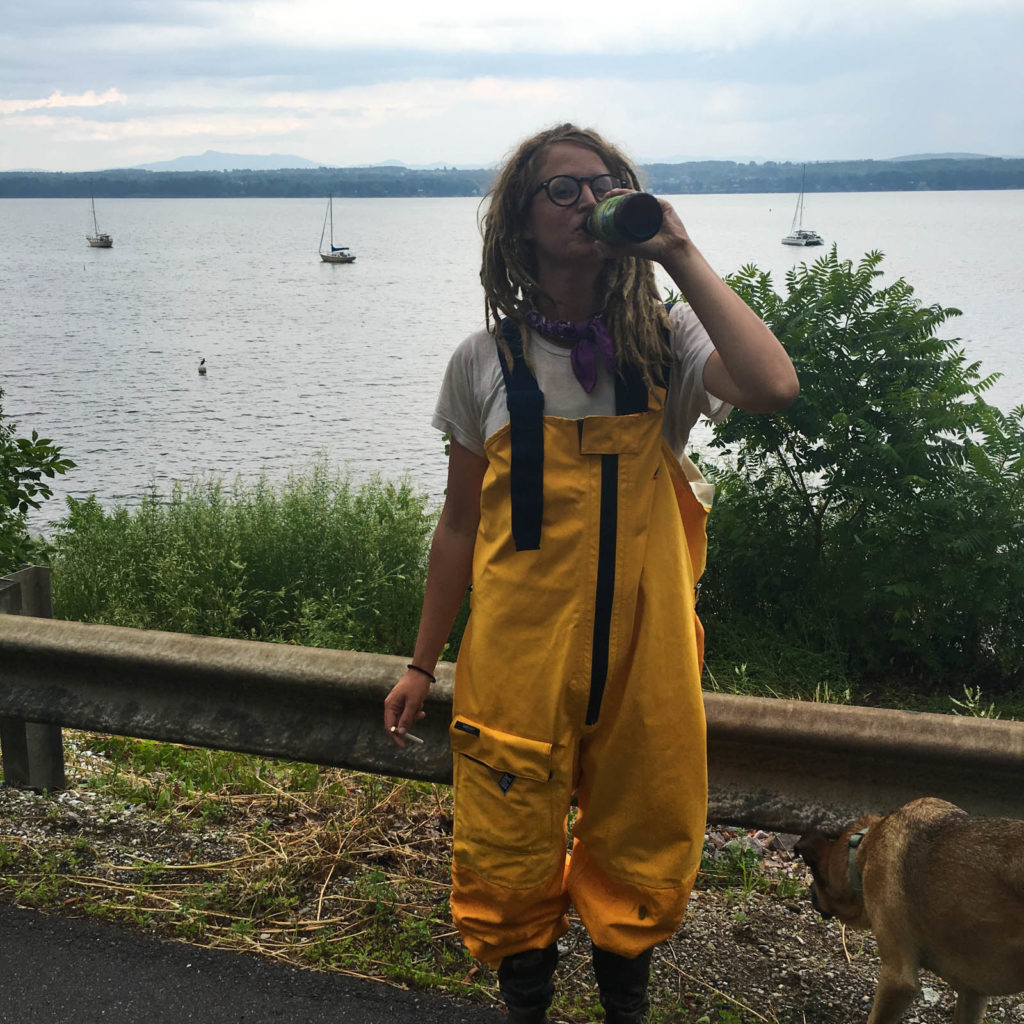 I don't know if Shelburne Bay passed me by, or I passed by it. I arrived with the intention to find some work. Maybe a job at a restaurant,or at the shipyard I rowed into, but rarely on this trip does anything I expect to happen, well, happen.
Shelburne Bay is a great place with a cove for nearly every wind direction, a boatyard full of many classic and forgotten beauties, sailors from near and far full of much advice, and ghosts. Crawling into my little berth at night, Shelburne was the first time I closed my hatch boards to feel more protected by the spirit of my little boat from the spooky evening.
I did find some work there, only not in a traditional fashion. When the shipyard gardener was using the hose and I needed to fill my water jugs we got to talking. She's a homesteader, master gardener, and keeps chickens and goats. My past days of goat rearing came in handy as we hit it off. I asked her if she needed any help and she set me up with two days of work digging in the dirt.
I reached out to another shipyard down south and while he doesn't have any work for me right now, he offered to help me advise me with any projects I intended to do to get my boat ready for leaving the lake. There's a possibility there for end of the season work, perhaps in exchange for yard storage in the winter. While in Shelburne I also made arrangements with the sailmaker a short sail north to work trade for a second set of reef points in my mainsail.
Perhaps the most profound thing to happen to me in Shelburne Bay, however, was the chance meeting with the canvas maker at the yard. He lives aboard a Shannon 26 with his wife, also a sailboat sewing guru, and they've cruised the world extensively with their children.
I've been vacillating between going south down the Hudson this year or waiting another. This time a month ago I gave myself four weeks to make a decision. As time went on I became more and more over whelmed with what the boat needs in order to actually be ready for salt water.
The words of so many couch sailors I've met echoed in my ears.
"Just go."
Talking with the canvas maker he said, "why not wait a year? Don't outfit in Florida. You're one of a million. Everything is more expensive. Here people want to help you. You need to be ready."
So it was decided. I made three lists of what the boat needs. Before winter, before south, and ongoing. While I felt a great relief to be able to enjoy the rest of the summer sailing on the lake without the pressure to leave by a certain date with a certain amount of money, a new type of anxiety set it. I'd have to find somewhere to store the boat, and worst of all, I'd have to move back to land for what could be seven months.
But I didn't have time to worry about the impending dark months ahead, my little boat sitting lonely on jack stands—I had a weather window and a sailmaker to meet.