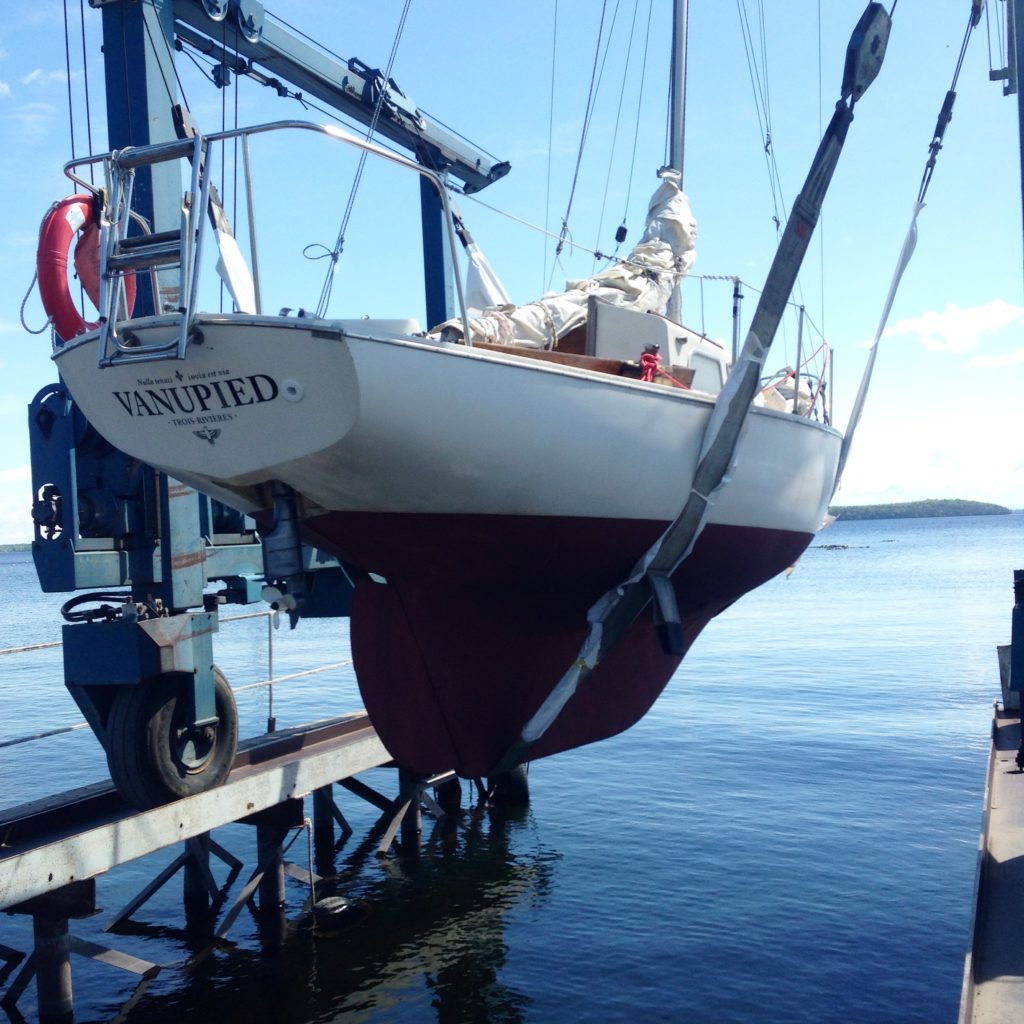 June 1— Launch was bad. Real bad. At anchor now and it's blowing hard. Dealing with a lot, but it's good. Managed not to panic, managed not to hit any boats. Engine died midway in the dock channel, on a collision course with a beneteau and my main halyard snags my topping lift. I lost my favorite hat to the wind. The miserable troll who owns the boatyard said something about my boat sinking as he lowered me into the water, then the yard manager said "good luck, sweetie," and pushed me off the dock. The transducer for the depth sounder is leaking. It's okay, but it's below the water line, so I'm monitoring it closely. Wind is howling. I don't know if I'll raise sail today. In full on captain mode.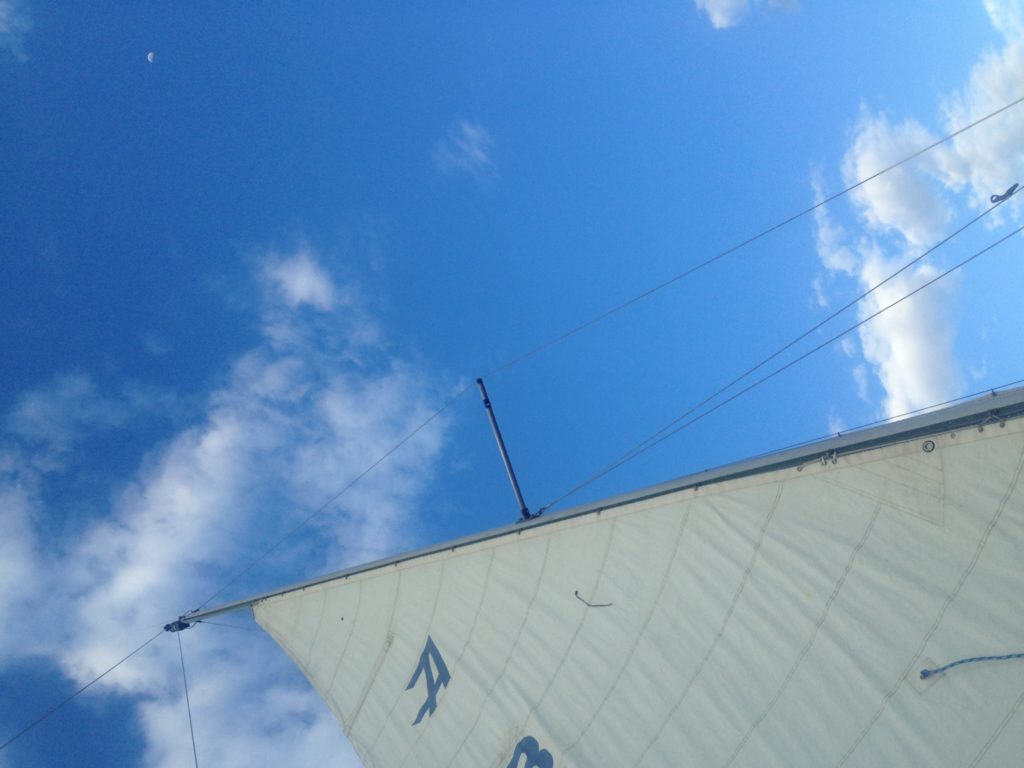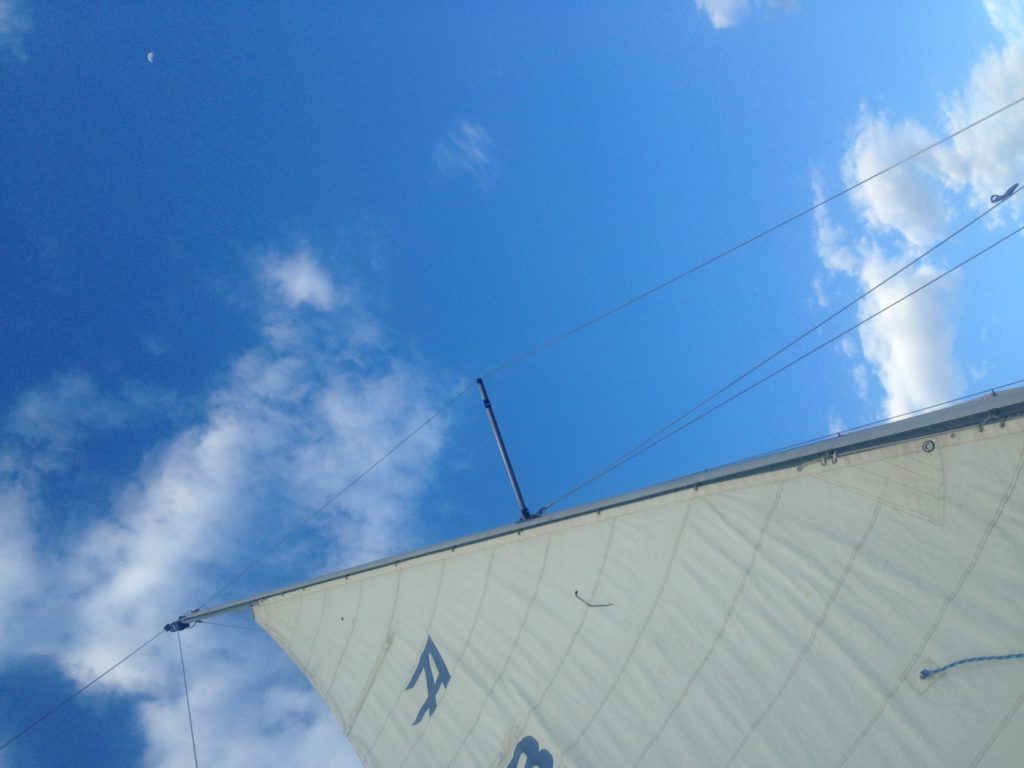 June 2— The forecast is wrong so far. I'm anchored off a beach. The weather guesser says southwest, five knots, but it's higher. I'm exposed. I'm nervous about lifting the hook and being blown in to shore. It's supposed to clock around to the north, so I'm waiting, which could be a mistake. The boat's a wreck. I have to eat and square away a lot on deck before I can even think about leaving. I'm basically engineless. I have to force myself not to just crawl back into the v-berth. It's cold. Forty degrees last night. Yesterday's sail was intense. I'm less worried about the leak, it's slowed as the wood block has started to swell. I left yesterday at 6:30 p.m. Right off the reef in treadwell bay my jib halyard came undone. Wind still ripping when I went forward to fix it. I managed to tie it back on but forgot to go through the traveler, so sheeting became inefficient and tangled. At some point I was able to sail on a reach right into my anchorage. I anchored but not before jamming my finger in the hook I use to hold it on the bow. I know longer have a knuckle. I'm lucky I didn't break it, but there's blood everywhere. I'm grateful I learned to sail engineless last year. Still can't believe I do this shit "for fun."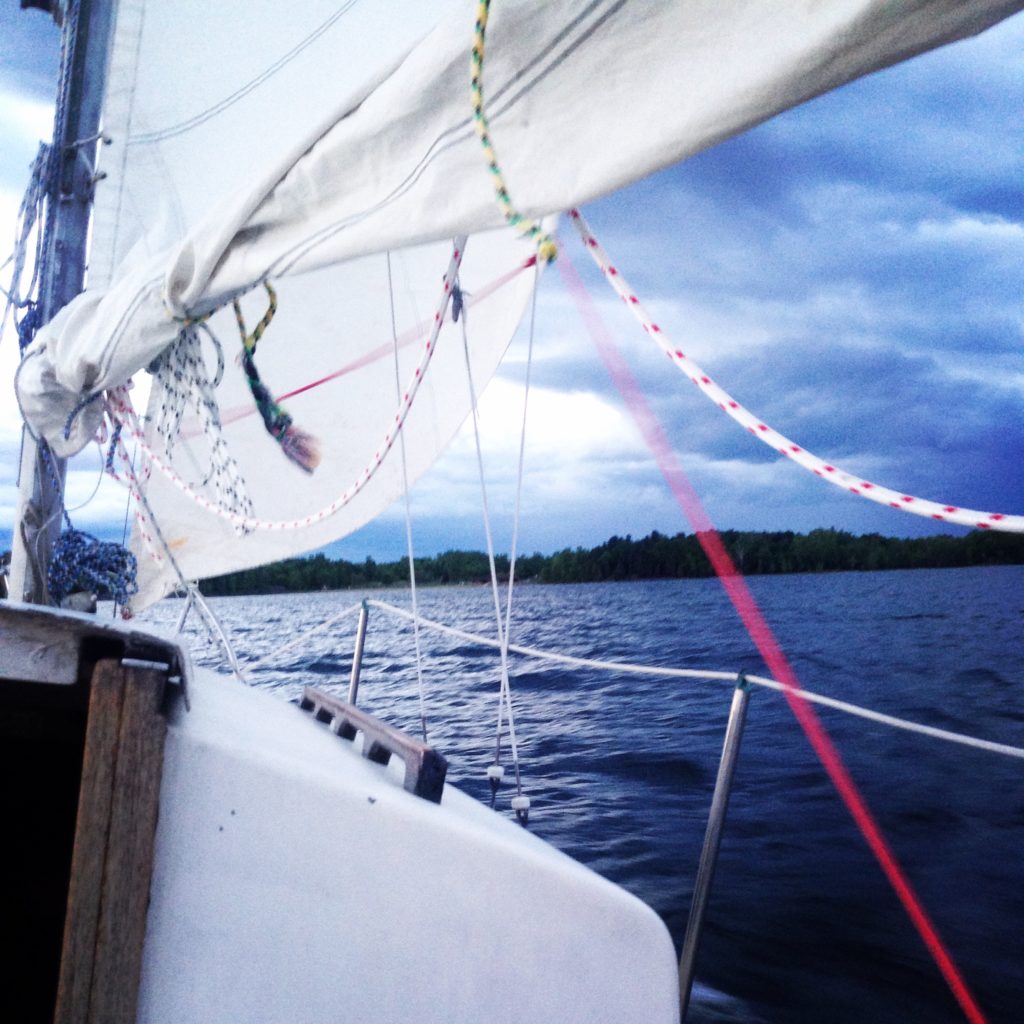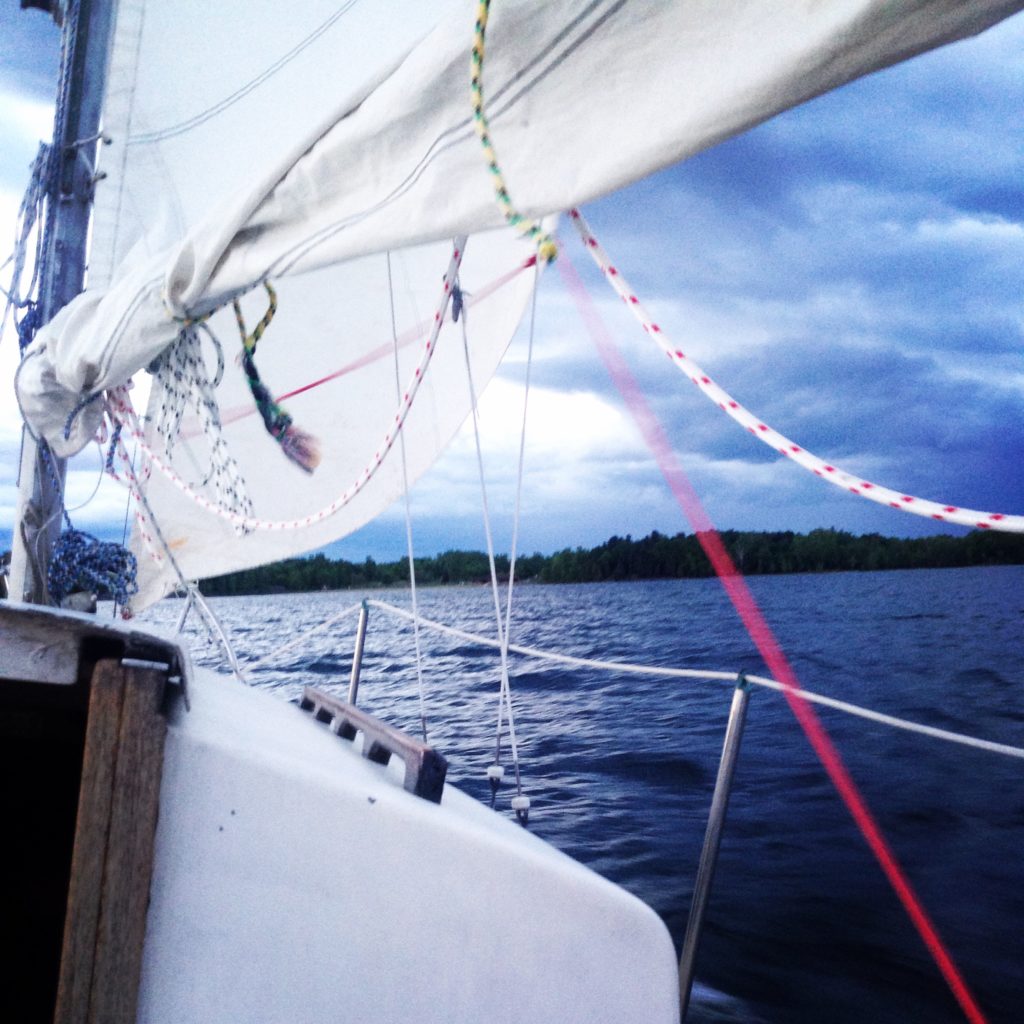 Later— Weather guesser wrong again. Five knots. Ha! Maybe for five minutes. I had the rails in the water with a reef and my tiniest headsail. Five knots…
Leaving the beach was smooth enough. Sailed off the anchor broad reaching to clear the reefs. Winds were still kind of confused. SW, NW, W? Maybe I'm the confused one. Cumberland straights were easy. Nothing like that time we raced the trimaran in the McDonough, where it seemed like McDonough's army itself was marching towards us in the form of ten foot rollers. Once south of there the wind started to rip. Gusting to 25, sustained at maybe 18. It was cold, raining, and I was getting broadsided. Do I want to keep sailing in this? No, so I made for Valcour Island, due west.
Vanupied went to weather with a serious bone in her teeth. She loved it. She's a sadist, I swear. If only I could trim her sails properly. Always luffing no matter what I do. Maybe it's her old, shitty sails, or maybe I'm a shitty sailor. Her backstay is sketchy. The whole time I just kept saying, "please don't break." If the fisherman weren't impressed by my screeching into the anchorage and dropping the hook under sail, well I'll be damned.
Everything is blue. Blue sleeping bag, blue lake, blue sky, blue dinghy. I'm in no particular hurry, I have to remember that. As soon as I get home though, bills are due. Car insurance, mooring fees, electric bilge pump, registration…but I don't want to think about that right now in the blue.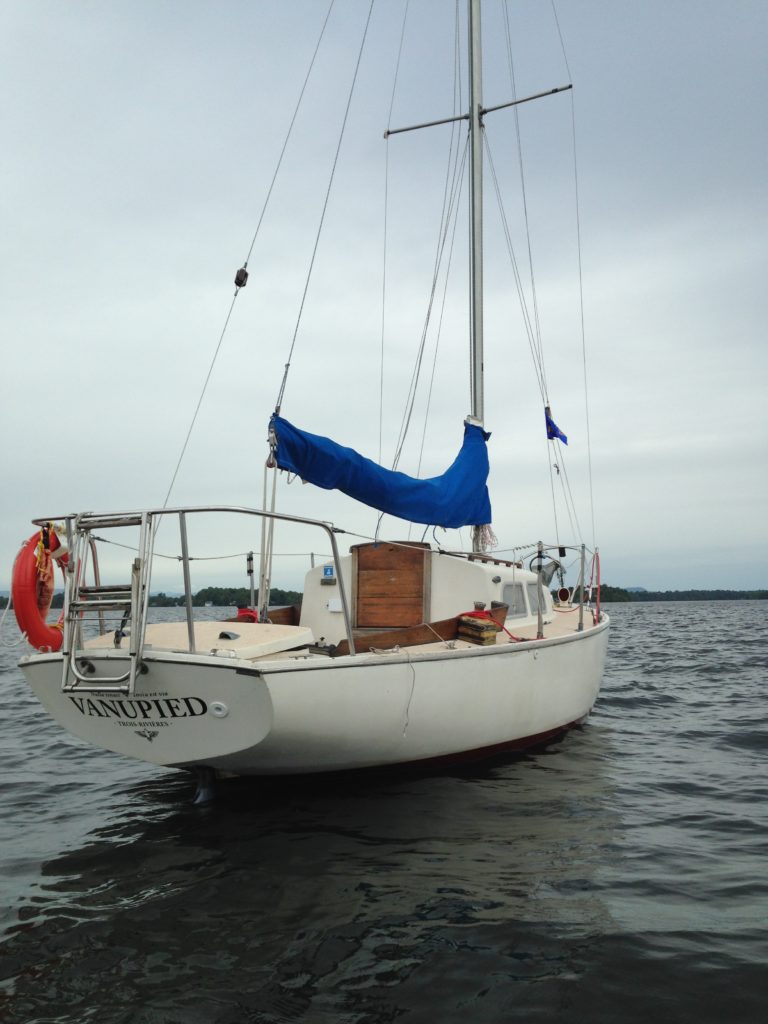 June 3— Well, I'm happy to say Vanupied and I are in our home port. I'm showered, fed, and have everything I need right here. Even my bicycle is locked up on shore. I'm anchored far off the mooring field. Not yet wanting to deal with being in the throws with other boats. I just want to stay on the outskirts a little longer. When I arrived I was hungry and out of tobacco. It was a long, arduous day. Everything felt insurmountable. But not now. It all feels possible.
This time last year I wasn't even in the water yet. And it wasn't until another month that I found myself this far south. So, there's time. Not much of it, but it exists.